Pentecost
We made and flew kites to celebrate Pentecost and the Church's Birthday.
Good Shepherd Service
Our school, along with St Joseph's Pontefract, were asked to lead the Bishops Good Shepherd Service, where all the schools of our diocese come together to celebrate the fundraising that has take place throughout lent. Follow this link for the Diocese News Article from the event and even more photos: https://www.dioceseofleeds.org.uk/good-shepherd-celebration-2019/
May Procession
To celebrate our Blessed Lady during the month of May, Fr Simon came into school to lead our annual May Procession from the Hall to our Prayer Garden.
Prayer Garden
As part of our celebrations of the Month of May, Year 5 decided to tidy up and replant our schools prayer garden. After visiting the market in town to buy their own bedding plants, Year 5 worked hard to weed, dig over and prepare the ground for the new plants. The children carefully planted their own bedding plants and made sure that they took hold and started to grow by watering the plants each day.
Stations of Mary
Our Key Stage Two children joined with St Joseph's to lead the parish in a devotional service to Mary based on the key stages of her life.
Mass for St Joseph the Worker
Holy Family & St Micheal's went to St Joseph's Church to celebrate the feast of St Joseph, our parishes patron saint.
Stations of the Cross
We joined together as a parish at St Micheal's Church to celebrate Stations of the Cross and Benediction as part of our Lenten Preparations.
Lenten Art Workshops
Many of our parents and school community joined with us during Lent to create different pieces of Lenten art.
Good Shepherd Art Workshop
As part of our preparations for leading the Good Shepherd Service, St Josephs children came to our school to prepare the artwork that will be shared at the service in May.
Benediction.
Fr Simon came into school to teach the children about Benediction, the artefacts involved and the meaning behind the symbolism.
Festival of Crosses
Our Lenten preparations included our Festival of Crosses, with each class designing a different style of cross to remind us of Jesus' Passion.
Ash Wednesday
On Ash Wednesday, Mrs Cade led a service of reflection in the hall to start our Lenten journey of faith. Fr Simon came in the afternoon to bless all our community with Ash.
Vatican II BKCAT Art Workshop
As part of our Trust-wide work learning about the impact of Vatican II, children from all over the BKCAT came to our school to create artwork to share with their communities.
Mary, Mother of God
We began our Spring Term at St Joseph's Church, celebrating Mary, the mother of God.
Autumn Term 2018
Christingle
Year 6 led our school and parish in a Christingle service as we came to the end of Advent.
Nativity
Our infant children once again shared the story of Jesus' birth though a traditional retelling of the Nativity Story.
Carols
Year Six went into Pontefract Town Centre to sing carols for our local community.
BKCAT Bauble Workshop
our children form Year Four represented our school at the Bauble Art workshop, creating some excellent decorations for their homes.
Advent Art Workshops
Many of our parents and school community joined with us during Advent to create different pieces of Advent art.
Advent Wreaths
Children from each class came together to help make their Advent Wreaths to help in the preparation for Christmas.
Our Lady of Walsingham
As part of this years special focus on Our Lady of Walsingham, Fr Simon bought statues for each class which he came in and blessed after telling us a little of the history of Our Lady and Wlasingham.
Remembrance
We took time to pause and reflect of the sacrifices made throughout history in the cause of peace in our world and prayed for an end to conflict.
One Million Children Praying the Rosary
Our children joined with others across the country and around the world to pray the Glorious Mysteries of the Rosary in the Holy Month of the Rosary.
Batley Torchlight Procession
Four of our Year Six children travelled in pilgrimage to Batley to join in with the Diocesan Torchlight Procession.
Feast of Archangels.
Our school celebrated Mass at St Micheal's Church for the feast of our schools patron saint.
2018-2019 Academic Year
BKCAT Advent Bauble Workshop
BKCAT Mass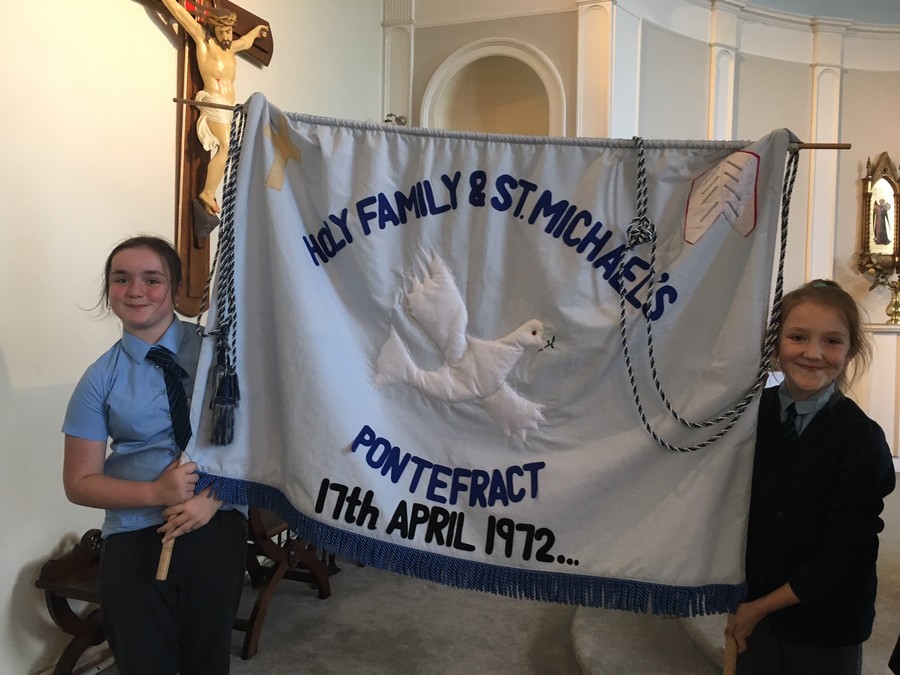 Torchlight Procession
The first Monday of October saw the Torchlight Procession in Batley. The procession started in the Market Place and ends with Benediction in Church. Bishop Marcus Stock led the service for everyone.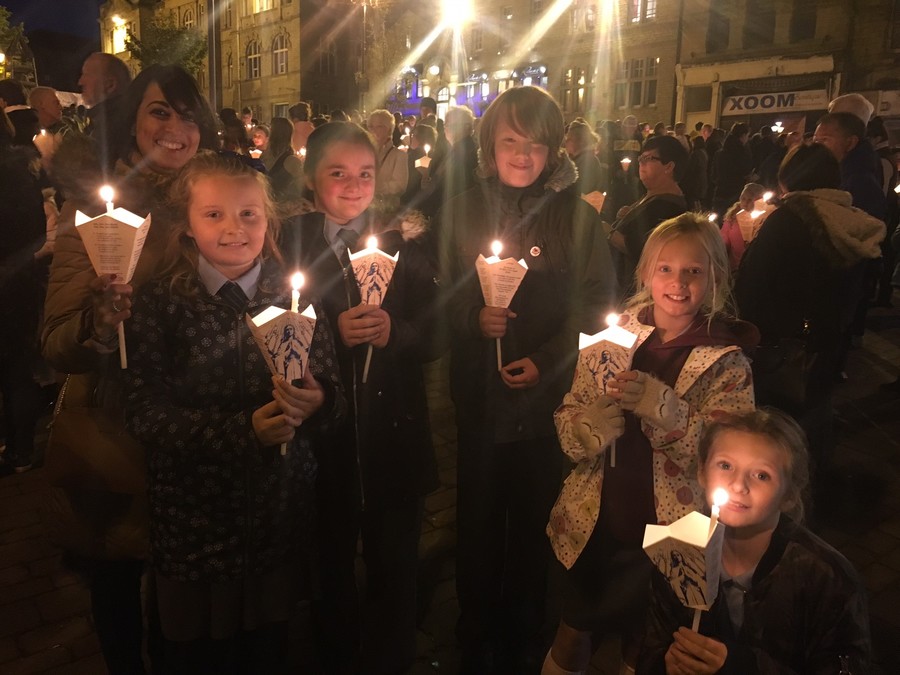 BKCAT Big Sing Liturgy Thing
The children had a wonderful time at the Big Sing Liturgy thing and were eager and enthusiastic.They represented the school incredibly well.
Feast of St Michael
Celebrating the feast of St Michael with St Joseph's Catholic Primary School.