To access the main website, click here.
_____________________________________
COVID-19: Partial Reopening of School
_____________________________________
Contacting School
If you need to contact school, please phone the school office on: 01977 798303
if the office is closed, please email admin@hfsm.bkcat.co.uk
_____________________________________
Home Learning
Please follow this link to take you to a list of home learning opportunities that you can follow whilst you are at home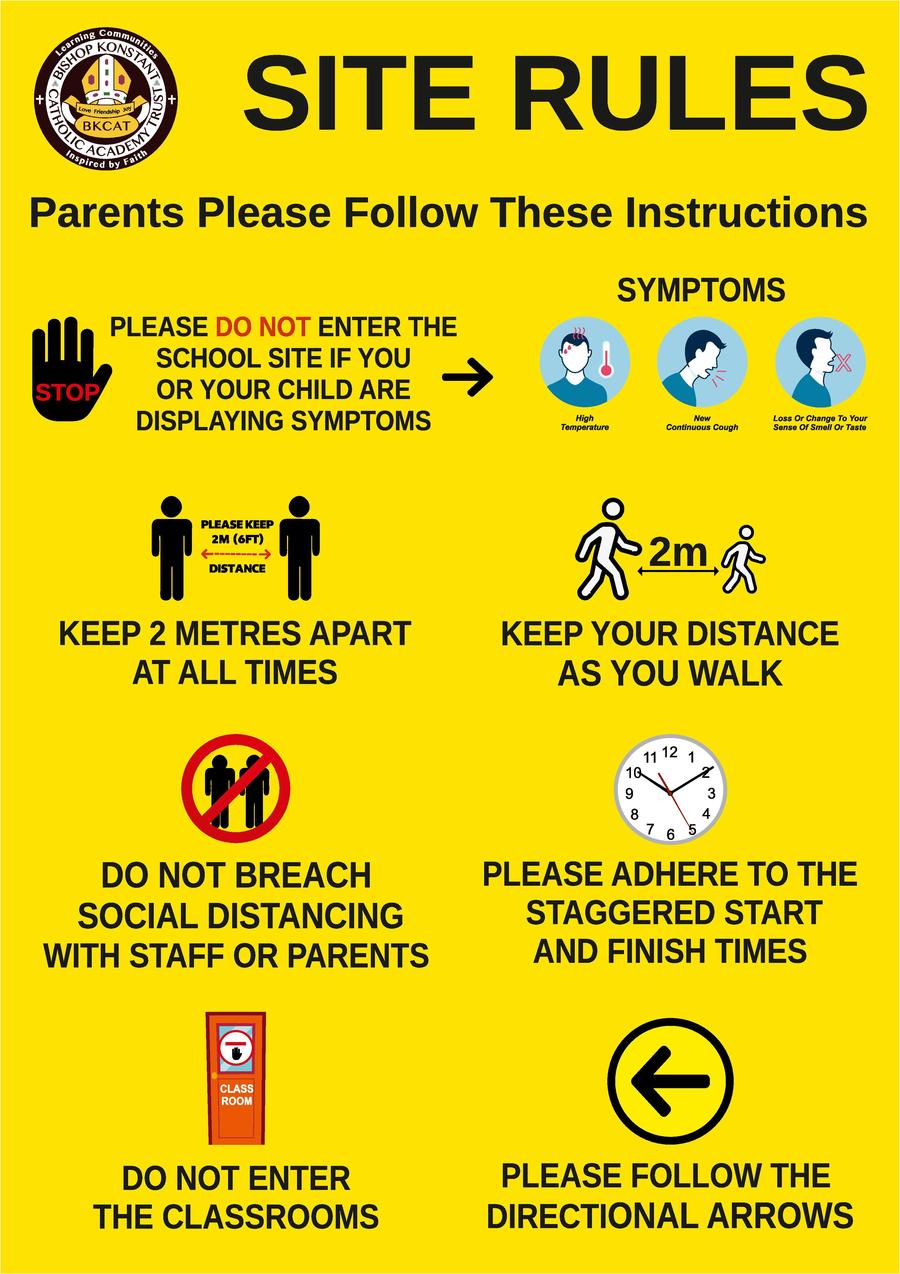 Class Bubbles
Bubble

Teacher

Entrance

Start Time

Monday – Thursday Finish Time

Friday Finish Time

Starfish & Penguin

(Critical Workers & Vulnerable)

Miss Batool

Year 5 & 6 Door

8.30am

3:20pm

3.00pm

Monkey

(EYFS A)

Mrs Waddington

FS Main Door

8.40am

2:50pm

12:30pm

Panda

(EYFS B)

Mr Walpole

FS Side Door (Through FS Playground)

8.40am

2:50pm

12:30pm

Fox

(Year 1 A)

Mrs Owen

Year 1 Door

8.50am

3.00pm

12:40pm

Rabbit

(Year 1 B)

Miss Casey

Year 2 Door

8.50am

3.00pm

12:40pm

Owl

(Year 6 A)

Miss Hogg

Year 4 Fire Door

9.00am

3:10pm

12:50pm

Giraffe

(Year 6 B)

Mr Harris

Year 3 & 4 Door

9.10am

3:15pm

1:00pm

Holy Family & St Michael's Catholic Primary School @HFSMPontefract
2 Jul RT @ParishofStJ: St Joseph's Church will be open for the celebration of Mass on Wednesday 8th July. Details on our website. https://t.co/…
2 Jul 💙💙We loved having lots of you join us for Celebration Assembly at Home last week.💙💙 We are doing it again this Fri… https://t.co/oUnoRxMhWh
2 Jul RT @MyWakefield: ⚠️News articles are reporting that Wakefield has a higher number of coronavirus cases than other areas & may be at risk of…
27 Jun RT @bbcbitesize: Next week is ⭐️ SCIENCE WEEK ⭐️ on #BBCBitesizeDaily - here's what we've got coming up! Tune in every weekday at 9am on @…
26 Jun RT @ParishofStJ: St Joseph's Church opening for Private Prayer will contine on Sunday 28th June from 10am to 2pm and on Wednesday 1st July…
25 Jun Our year 1 rabbit group doing showing off their amazing art skills. They have been decorating tiles that we will us… https://t.co/GxzPwfeQEM
25 Jun The children in rabbit group have been practising their measuring skills in Maths this week. They have worked hard… https://t.co/QKBMrLWuQe
25 Jun @WakefieldSSP have produced a Sports Day at home for National School Sport Week. Part 1: https://t.co/TGtQdEaNc8… https://t.co/B17Z7WFAv2
25 Jun Our Foundation Stage children want to say a big thank you to Catholic Care for sending in a supply of fruit for our… https://t.co/goIdarVOzV
23 Jun Year 6 enjoyed their Zoom Session yesterday working on their transition to Hish School. https://t.co/RFKBZG5IDw
22 Jun Year 5 took part in their first Zoom call today and it was amazing! 🤩 It was so lovely to see everyone's smiling fa… https://t.co/n6E2aMmMm9
22 Jun Our PE provider @WakefieldSSP are producing some PE sessions and assemblies to try at home. Visit: https://t.co/sYIAHMg2sh to take part.
21 Jun RT @TenTen_UK: In the Gospel today, Jesus says "Do not be afraid" something which He says a lot throughout the Gospels to help remind us th…
21 Jun RT @bbcbitesize: Here's what we've got coming up next week on #BBCBitesizeDaily! Tune in every weekday at 9am on @BBCiPlayer and the Red…
19 Jun RT @DOLMusic: If it's cold and miserable outside this weekend, why not visit our YouTube channel and pick a singing session to join in with…