Year 2
Hello and welcome to the Year 2 class page! I am Miss Jackson and I am very excited to be teaching Year 2 again this year, working alongside Miss Turver. As you may already know I hold very high expectations of the children I teach, but as their teacher I would be very disappointed if they didn't also have high expectations of me! I am confident that in our classroom there will be plenty of hard work, determination and 'light bulb' moments taking place, but I also aim to encourage children to develop a love of learning through a broad, engaging and fun curriculum in a classroom and school which is rooted in the respect and love of all others.
I have always felt that education is a partnership between school, teachers, children and parents. Therefore, if you have any concerns or would like more information on how you can support your child, please get in touch with me through the Class Dojo system or by calling the school to make an appointment to see me.
Other Key Information
Reading – I encourage as much reading as possible; reading of fiction and non-fiction, as well as poetry with your child will inspire them and broaden their knowledge. If possible, please set aside as much time as you can for your child to read independently or with a family member each night. Please note – a comment with a page number and signature should be made every time a child reads at home.
Homework – Homework is given out in homework books on Friday's and should be returned by the following Wednesday. Please encourage and help your child complete their homework and leave a comment and/or signature. It should never be too challenging for them and it will be based on the learning from the week and some creative elements. At this age they will probably need a helping hand but by the end of year I would hope for most children to be able to tackle this on their own. I am a firm believer that the homework is the child's responsibility - as much as they enjoy telling me that you forgot to put it in their bags :)!
P.E – Children should have an appropriate P.E. kit, including socks and trainers in school on a Monday and Tuesday afternoon. It is recommended that children bring their P.E. kits on a Monday and take them home on a Friday to avoid any disappointment due to timetable changes.
Below is a link to a summary of the curriculum for the current term
CLICK HERE TO VIEW AUTUMN TERM 1 TOPIC OVERVIEW
CLICK HERE TO VIEW AUTUMN TERM 2 TOPIC OVERVIEW
CLICK HERE TO VIEW SPRING TERM 1 TOPIC OVERVIEW
CLICK HERE TO VIEW SPRING TERM 2 TOPIC OVERVIEW
CLICK HERE TO VIEW SUMMER TERM 1 TOPIC OVERVIEW
Seasons artwork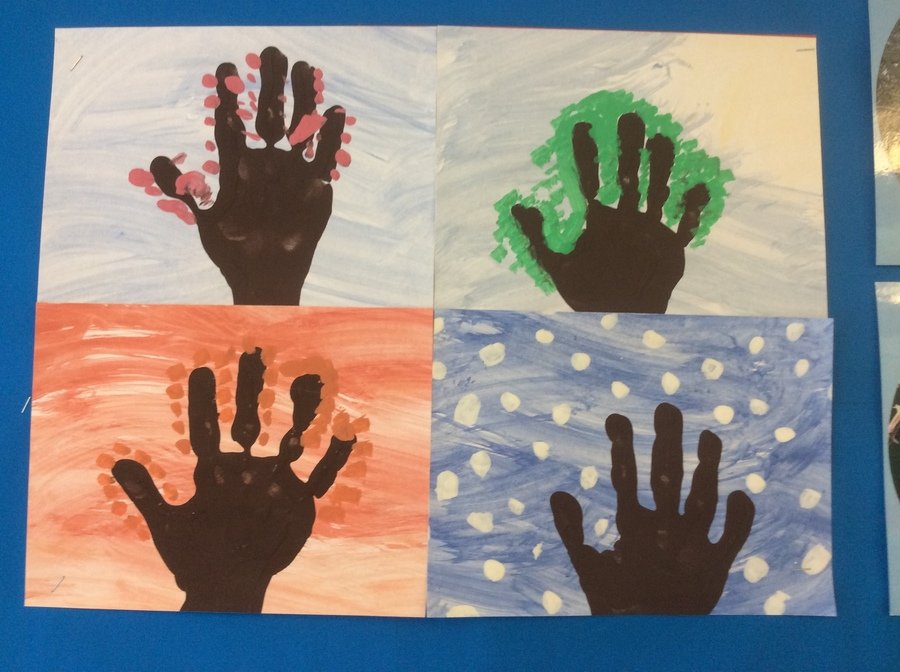 Minibeast hunt
Reading our stick man sequel's to the class
Sky Try Rugby
SORTING 2D AND 3D SHAPES AND EVERYDAY OBJECTS
EDITING AND IMPROVING OUR NON-CHRONOLOGICAL REPORT
easter crafts
Investigating word classes
Northern lights artwork
Singing the friendship song
Group work to write our character descriptions of the witch from Room on the Broom!
PROPERTIES OF 2D AND 3D SHAPES INVESTIGATION
SORTING EVERYDAY OBJECTS
Making greek salad - learning about food types, hygiene and healthy eating
Place value and partitioning investigation and games
Autumn Term 1 Displays
Checking our number bonds
CREATING ARRAYS
CREATING AFRICAN SAFARI SILHOUETTE ARTWORK USING WATERCOLOURS